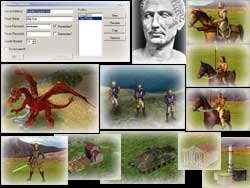 Here are this week's new or updated downloads for Civilization IV:
Happy downloading!
Note: If you would like your new or updated Civ4 file(s) included in this weekly announcement, please visit this thread for details.
Special Note: The Total Realism team has released version 2.0 of this very popular modpack for Civ4, now compatible with the v1.61 patch. The new version contains more than 50 new units and includes several major new features like slavery uprising if using slavery civic, new military general who fights in the battlefield, new way of razing cities, new religious holy cities, hiring of mercenaries in times of desperation, and much more!
Origineel Artikel: http://www.civfanatics.com/news2/fullnews.php?id=792