CIVFANATICS' CHRISTOPHER TIN COMPETITION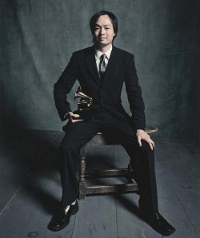 Civfanatics is pleased to announce a 'Christopher Tin Competition', giving you a chance to win a free copy of the
Surround Edition
of
Calling All Dawns
.
'You're playing as the Aztecs and meet another leader; Christopher Tin of the Baba Yetuns. In 100 words or less, how do you greet him and what do you offer to give in return for one of his Hit Single resources?'
To enter the competition, submit your response by reporting this post.
Click the button (or button if you are using the Black CFC theme) in the lower left hand corner, under my avatar.
Write out your response.
Click 'Send Report'.
The best three entries will receive a free copy of Calling All Dawns: Surround Edition. Many thanks to Chris for supplying these prizes!
Competition entries close at 7pm (EST, GMT -5) on February 12th 2012, with winners announced and prizes shipped soon after.
Spoiler for The fine print:
The 'best three entries' will be decided solely at the discretion of CFC staff.
Entrants must be 18 or older.
Winners must provide a name and postal address in order to receive their prizes.
CivFanatics will only collect name/address information of winners for prize-shipping purposes. Your personal information will remain private and is never sold or used for any other purpose.
Void where prohibited.
Obligatorily, we reserve the right to change any condition of this competition, or to disqualify any individual, at any time with no prior notice.
Origineel Artikel: http://forums.civfanatics.com/showthread.php?t=452925&goto=newpost